Welcome to Arteconvivio Italia
The organization that promotes Italian artists all over the World
Benvenuti in Arteconvivio Italia
l'organizzazione che promuove i talenti italiani nel mondo
Born in Cesena in 1961, he began his studies in his hometown under the direction of Giovanni Gatti at the conservatory "G.B.Martini" where he then brilliantly obtained the diploma. After that he specialized with William Bennett, Aurčle Nicolet, Patrick Gallois; particularly meaningful for his artistic improvement was then the meeting with Jŕnos Bŕlint, with whom he has studied for a long time.
Deeply interested in the Italian flautist literature and in the chamber production in general, he joined various ensemble with whom he was awarded in several national (A.C.A.D.A. Genova, Curci – Barletta, A.M.A. Calabria) and international (Stresa, Rovere d'Oro – San Bertlomeo a Mare, Tortona, Ispra, Acqui Terme) competitions.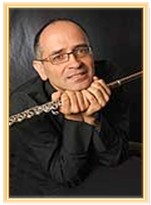 During his intense concert activity he has played for important associations (Gioventů Musicale Italiana, A.GI.MUS., Ente Filarmonico per il Mezzogiorno, Tecne Italiana Musica, Ass.Mozart Italia, Accademia Filarmonica di Bologna, Soc.Buzzolla – Adria, Alcamo, Sarzana, Ravello, Florence, Turin, Siena, Pistoia, Grosseto, Macerata, Palazzo Campana – Osimo, Ravenna, Ferrara, Parma-Teatro Cinghio, Venice- Chiesa di Vivaldi, Perugia, Milan- Ass.Amici del Loggione del Teatro alla Scala, Rome – Cortile dei Musei Capitolini di Piazza del Campidoglio) and festivals (Estate Teatrale Veronese, Rassegna Malipiero – Asolo Musica, I suoni del Tempo – Cesena, Agnone, Pitigliano, Primavera Musicale Volterrana, Benevento Classica, Cennina, Piemonte Musica, Melfi, Todi, Koszalin, Danzig, Palma de Mallorca, Salzburg, Zagreb, International Week of Italian Music – Craiova). He performed as soloist with orchestras and he held concerts in Austria, Switzerland, France, Germany, Denmark, Sweden, Norway, Finland, Spain, Balearic Islands, Portugal, Poland, Latvia, Croatia, Rumania and Bulgaria.
He has collaborated with renowned artists such as Guido Corti, Diego Dini Ciacci, Jŕnos Bŕlint, Claudio Marcotulli, Michelangelo Severi.
Some composers have dedicated compositions to him, which have been performed as world premičre.
In 1997 and 1998 he recorded two Cds with pieces of music by Schubert, Donizetti and Mozart and a new Cd is going to appear in the next months.
He has taken part in juries of some international competitions.
He has been invited to give concerts in the near future in Siberia, Rumania and Berlin.